Spray Heads
Toro® sprinklers help you meet every turf requirement with a wide range of models that are as attractive as they are functional. Toro. Recognized worldwide for unbeatable versatility and built in dependability to meet your needs. We'll help you grow and maintain a healthy, green environment.

570Z Series
Series Overview
The 570Z is ideal for small landscape areas and intricate designs. The PR and PRX models are ideal for applications with high or varying operating pressure, including long lines and slopes. The X-Flow feature restricts water loss by 99% if damaged.
570Z Series Features
Zero-flush seal prevents flushing on pop-up
Several body sizes—to satisfy varying installation requirements
115 different nozzles provide tremendous versatility
Ratcheting riser feature for easy and reliable arc adjustment
Accepts Maxijet® nozzles for low-application-rate irrigation
All bodies shipped with a flush plug in place for ease of flushing and riser pull up
Side-inlet models available on 6" (150mm) and 12"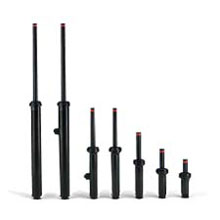 Documents:
570Z Series User Guide
570Z Series Specifications