Rain Sensor
Rain sensors are a must on any irrigation system, after all, who wants to have their sprinklers running while it's raining out? Hunter also offers wind, freeze and flow sensors for special applications that require the added insurance they provide.

Mini-Clik®
The world's most simple, accurate, rugged, and reliable rain sensors.
There's nothing more embarrassing–or more wasteful or costly–than an irrigation system that runs when it doesn't have to…in the rain. Mini-Clik® provides the simplest, most effective way to prevent sprinklers from coming on during or after precipitation. It easily installs on any automatic irrigation system, then shuts sprinklers off in a storm and keeps them off, automatically compensating for the amount of rainfall that occurred. Disks absorb water and expand proportionally to the amount of rain that fell (e.g., a small cloudburst would result in little absorption, a 6" thunderstorm would lead to more absorption and expansion). As the moisture-laden disks expand, they eventually activate a switch that interrupts the circuit from the controller to the solenoid valves. Once dry, they contract and release the switch. Thus, Mini-Clik automatically resets without ever affecting your controller. There's no better way to ensure that a system isn't watering when it isn't necessary.
Easily installs on any automatic irrigation system
Patented mechanism cannot be fouled by dirt or debris
Adjusts to actuate at various rainfall quantities
Set from 1/8" to 1" based upon your local conditions
Includes 25 feet of 20 gauge two conductor wire
5-year warranty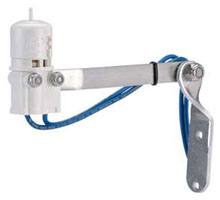 Documents:
Mini-Clik User Guide
Mini-Clik Product Information