Spray Heads and Nozzles
Contractors and specifiers choose Rain Bird spray heads and nozzles more often than all other brands combined. For some, the reason is a proven track record of performance that spans nearly three decades. Others praise the reliability and durability. Or the nearly 90 nozzle options. Whatever the reason, Rain Bird spray heads and nozzles continue to be the dominant choice.

Rain Bird® 1800® Series Pop-Up Spray Heads
1800 Series Spray Heads have first-rate quality built in for reliable operation and long life. Their superior components and features make them the spray heads of choice for a wide variety of applications. Also available with Seal-A-Matic™ (SAM) in-stem check valve option and patented PRS in-stem pressure regulator option.
Features and Benefits:
Exclusive co-molded wiper seal features an encased plastic "cage" to provide unmatched resistance to grit, pressure and the environment. Additionally, the pressure-activated, multi-function seal design assures a positive seal without excess "flow-by" which enables more heads to be installed on the same valve.
Precision controlled flush at pop-down clears debris from unit, assuring positive stem retraction in all soil types.
Strong stainless steel spring provides reliable stem retraction.
Two piece ratchet mechanism on all models allows easy nozzle pattern alignment without tools and provides added durability..
Pre-installed orange 1800 Pop-Top™ flush plug blocks debris from entering after flushing. Allows for easy nozzle installation.
Constructed of time-proven UV-resistant plastic and corrosion resistant stainless steel parts, assuring long product life.
All sprinkler components are removable from the top without special tools, providing for quick and easy flushing and maintenance of the sprinkler.
Side and bottom inlets featured on 1806 and 1812 models.
Five-year trade warranty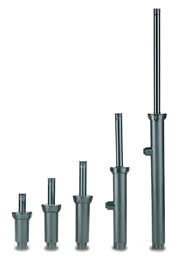 Documents:
1800 Series Specifications