Spray Heads
From the economical and easy-to-use PS to the full-featured Institutional Spray, you'll find the spray that best fits the needs of your landscape. Match your spray head with the wide array of Hunter nozzles available and you will be able to water even the smallest areas with ease.

Pro-Spray Spray Sprinkler
A rugged contractor-friendly spray for residential and commercial projects.
The Pro-Spray has been manufactured with the precision required to ensure reliable operation and peak performance for years to come. This solid performer boasts heavy-duty ABS construction, including an extra-thick body and cap. Exclusive body ribs make it easier to install, adjust, and service while also providing more stability for the sprinkler in loose soils. But brawn isn't all this product offers. The sprinkler also features a user-friendly "pull-ring" flush cap that helps keep debris to a minimum and a multi-function wiper seal that eliminates flow-by. Add in its compatibility with all industry standard female nozzles–as well as Hunter's own complete line-up of adjustable, fixed, and specialty nozzles–and you have the industry's most sophisticated spray sprinkler. A spray designed with the professional in mind.
Heavy-duty body and cap construction
Pressure activated, multi-function, no flow-by wiper seal
Compatible with All Female Threaded Nozzles
Accepts adjustable, fixed and specialty nozzles from Hunter and all major brands
Optional factory-installed drain check valve for up to 10 feet elevation change
Eliminates landscape damage from flooding and erosion
Ratcheting riser for quick arc alignment
Heavy-duty spring for positive retraction under any conditions
Innovative pop-top flush plug design
1/2" standard side inlet on 6" and 12" models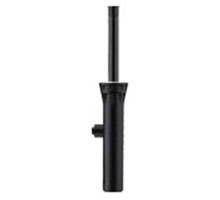 Documents:
Pro-Spray Series Product Information