Pro-C Controller
A complete family of modular, full-featured residential and light commercial controllers.

No need to bring along a variety of different-sized controllers to see which one is best for the job. With its ability to customize to the particular size you need (from 3 to 15 stations), the Pro-C will always be the right choice. A modular system also makes inventory a breeze–there are only three different units to stock (indoor cabinets, outdoor cabinets and station modules). But, modularity isn't all this controller has to offer, with great features such as three programs with multiple start times, independent day scheduling options, "one touch" manual start and rapid advance, a programmable event day off, robust heavy-duty locking plastic cabinet, and superior surge protection. Pro-C: delivering maximum flexibility for landscapes that require a minimal number of stations.
Versatile modular design
Simplified inventory management; easily customize unit to desired number of stations
Large LCD display for simplified programming
Easy to read for schedule review and entry
Three programs (A ,B, C) with multiple start times
Choice of independent day scheduling options
Global water budget/seasonal adjustment
Non-volatile memory
Superior surge protection and self-diagnostic short circuit protection
Remote control ready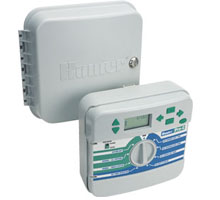 Documents:
Pro-C Series User Guide
Pro-C Series Product Information
ICC Controller
Superior flexibility, ease of use, and outstanding water management. All together in one commercial controller.
Hunter introduced the concept of personalized construction for controllers–allowing custom tailoring to more effectively handle the odd number of stations a system may require–and the acceptance has been overwhelming. Then again, why shouldn't it be? After all, nothing else makes more sense when seeking the ideal choice to run irrigation systems at virtually any commercial site, from schools, parks, and sports fields to hotels, resorts, and apartment buildings. The idea is a simple one: a controller that's "built" by combining sets of "modules" to create a system that can handle up to 48 stations and handle the different irrigation needs for turf, shrubs, and flower beds, as well as any special watering restrictions. Whatever size you choose, you'll enjoy all the features one could want: dial programming; a large easy-to-read display; programmable master valve; 365-day calendar; rain sensor bypass; seasonal adjustment; a choice of plastic, metal, or stainless steel cabinets; and Hunter's simplified user set-up. Hunter ICC, for the ultimate in flexibility.
Versatile modular design
4 fully-independent programs
Independent day schedule options for each program
Non-volatile 100-year memory
Programmable pump circuit by station
Cycle and Soak capability by station
Remote control ready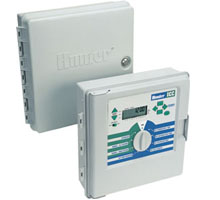 Documents:
ICC Series User Guide
ICC Series Product Information