Small Turf Controllers
Flexible. Simple to program, operate and maintain. Toro® small turf and landscape water management systems deliver advanced technology that adapts to your changing needs and allows you to manage a wide variety of landscape and small turf applications. Toro®. Leadership and innovation that gives you control and helps you grow.

TMC-212 Series
Series Overview
The TMC-212 has an array of features with advanced, modular construction. Options such as indoor and outdoor models and a station count of two to twelve make it a fit for a variety of residential applications. It is simple to program and install, and its solid-state technology will stand the test of time.
Features
Three fully independent programs with four start times per program
Station count modularity from 2 to 12 stations in two-station modules
Hot-swappable station modules
Non-volatile memory requires no batteries
Module options available for standard- or high-surge protection
Three-year warranty on standard model, five-year warranty on high-surge model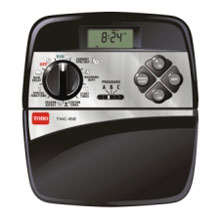 Documents:
TMC-212 Series User Guide
TMC-212 Series Product Information
TMC-424 Series
Series Overview
A full-featured, modular controller expandable from 4 to 24 stations using 4- or 8-station modules. Its flexible, modular design and advanced features makes it an ideal choice for residential, commercial and sports field applications.
Features
Four independent programs and 16 total start times, allotted to programs in any combination
Modular station counts from 4 to 24 stations in either 4- or 8-station modules
Hot-swappable stationmodules indicate module location and station count in real time
Optional flow monitoring will monitor up to three flow sensors simultaneously
Standard- or high-surge options
Non-volatile memory requires no batteries and holds programming information for up to five years
Five-year warranty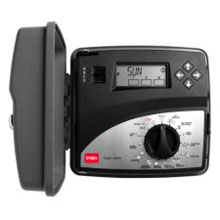 Documents:
TMC-424 User Guide
TMC-424 Specifications